USA News
'A spiritual war': Are Christian nationalists threatening to turn the US into a religious state? | US News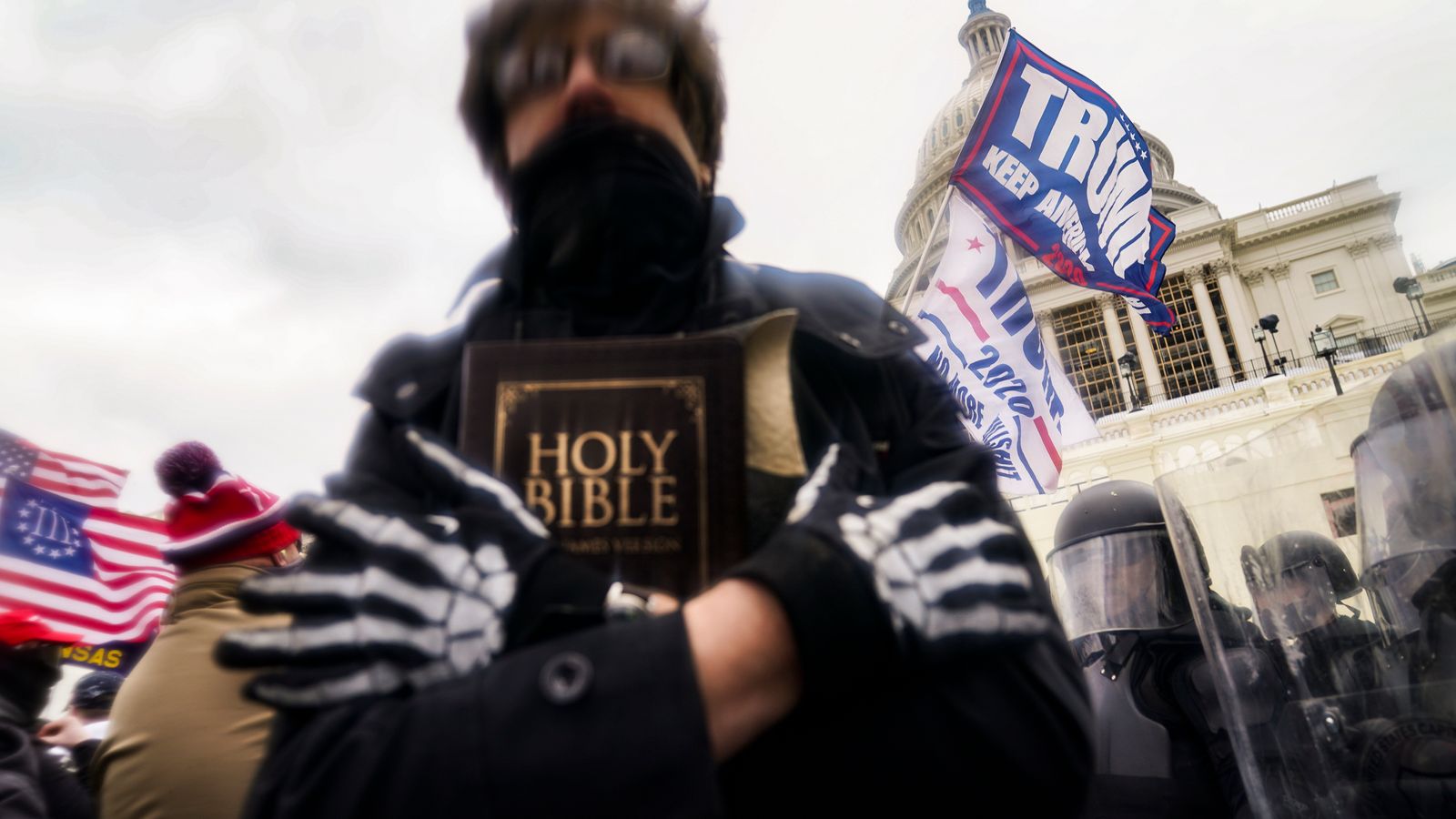 The pastor lights his cigar as he sits down on the sofa, casting the lit match aside. The floral upholstery starts to burn, the flames get bigger.
"It's not the job of the preacher to be a firefighter," Doug Wilson says, as the fire spreads. "We're supposed to be arsonists in the world."
Wilson leads a church in Moscow, Idaho. It's a small city nestled beside mountains and surrounded by green, home to the University of Idaho. It voted for Joe Biden in 2020.
But Wilson, who opposes same sex marriage and rails against the Pride flag, wants to turn Moscow into a "Christian town".
Stirring across America is a movement focused on tearing down the wall separating church and state. Conservative Christians are moving to remote states to live a rural life according to their values.
A real-estate company in Idaho that sells survival homes to such people offers buyers an AR-15 rifle as a "closing gift".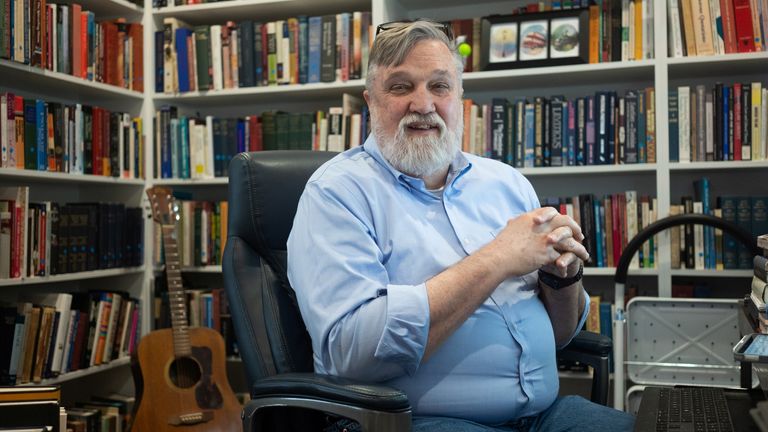 Christian nationalism is the belief that America should be governed as a Christian nation according to faith.
While it is not a new concept, some experts argue it has gone from a fringe ideology to a force in Donald Trump's Republican party and is now a threat to the very fabric of American democracy.
One professor said the movement uses Christian ideals to mask racist ideas, but others say the Christian nationalist label is simply used to dismiss any Christians who want to be involved in politics.
More than half of Republicans are at least sympathetic to Christian nationalist ideas, according to a recent survey.
Religious leaders like controversial pastor Wilson and political actors like ex-Trump national security advisor Mike Flynn are considered key figures in the movement.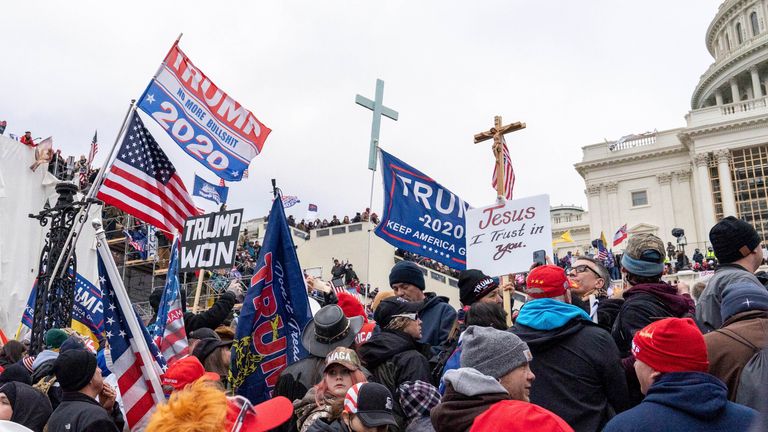 So how much of a danger is Christian nationalism?
At the January 6 insurrection, flags saying "An Appeal to Heaven" and "Jesus is my saviour" appeared alongside neo-Nazi iconography as rioters poured into the Capitol.
And while hundreds of people have been charged following the events in Washington DC, experts fear that Christian nationalism poses the "greatest threat to democracy" in America, amid talk of a "spiritual war".
"Well I gotta get home for dinner," Pastor Wilson says as the video draws to a close. The clip then ends with sped up footage of the sofa engulfed by the fire.
'They will tell you being gay is wrong'
Bradley Onishi spent seven years as a minister before becoming disillusioned and leaving his church.
Dressed in a flat peak cap and a black t-shirt, he cuts a fashionable figure as he warns of the dangers posed by what he calls white Christian nationalism.
"Christian nationalism is all about order", he says. "They want everything to feel like it's in its proper place.
"They want to go back to a time when they understand there to be two genders, a clear patriarchal structure to the family, a restricted approach to immigration, black people and other people of colour knowing their place in the country, socially and politically."
"They will tell you that being gay is wrong, in all cases. Some of them will tell you openly that interracial marriage is a sin," he adds.
When asked if he considers Christian nationalism to be a white supremacist movement, his answer is definitive.
"Would I say that? Totally. Are they gonna tell you that? No."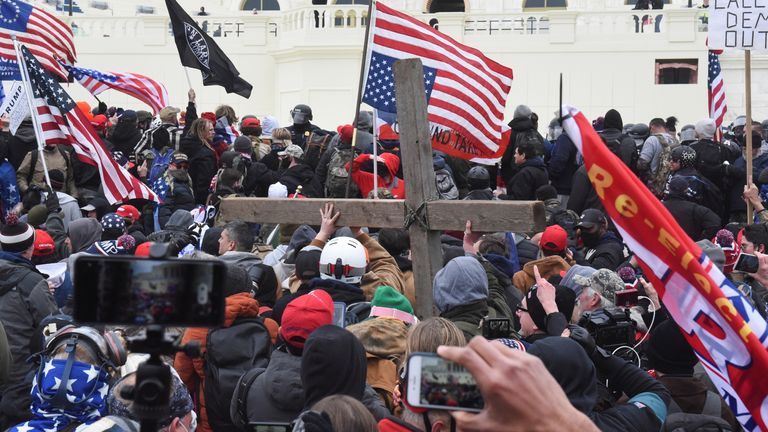 According to Onishi, large numbers of Christians are leaving more liberal states to settle in Idaho, where they are trying to exert control over local political institutions.
Onishi is from Orange County, California but says that he could find 100 people he knew that have now moved to Idaho.
He was inspired to write his book, Preparing For War: The Extremist History Of White Christian Nationalism – And What Comes Next, by the sobering sight of rioters storming the Capitol building in Washington DC on 6 January, 2021.
"I was pretty horrified that people I knew were there and that if I hadn't left (the church) maybe I would have been there. That's pretty terrifying to think of."
Read more:
Trump-backing 'fake electors' charged
Leader of far-right militia jailed for 18 years over US Capitol riot
Moving to Idaho to prepare for civil war?
The American Redoubt movement marries Christian nationalism with the idea of armed rural living in preparation for doomsday, and civil war.
First coined in an online essay posted to a survival blog by former US Army intelligence officer James Wesley Rawles in 2011, the so-called American Redoubt refers to a mountainous area where around 90% or more of the people are white.
It covers Idaho, Montana, Wyoming and parts of Washington and Oregon, in America's sparsely-populated northwest.
Rawles encourages "freedom-loving Christians" to vote with their feet and congregate in the American Redoubt and prepare for the collapse of society.
He has predicted that increasing polarisation in American politics will lead to armed conflict.
"It will be the second civil war, here in America and caused by the gulf between the right and left – or between the godly and the godless – or between the libertarians and the statists – or between the individualists and the collectivists."
It's hard to estimate how many people have been inspired to move to the American Redoubt, but there's certainly no shortage of estate agents advertising "redoubt" homes online.
One company, Flee The City, tells prospective customers it will find them rural properties that will give them the "safety and security we all require during turbulent periods".
Customers who purchase a property receive an AR-15 semi-automatic rifle as a closing gift.
While Flee The City's website says its clientele "hails from diverse backgrounds" all customers must "respect the Constitution and Bill of Rights".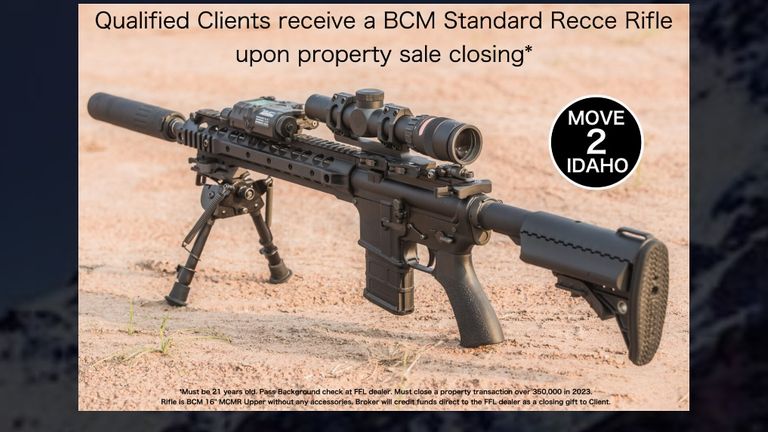 This is far more muted language than that used when the company was known as Black Rifle Real Estate and ruled out "snowflakes, liberals, socialists, Marxists, communists and other tyrants that hate our constitutional republic".
"The reward for taking a stand and seeing your family safe as the sanctuary cities are burned to the ground? Priceless," it told customers on a now-archived version of its website.
Flee The City did not respond to a request for comment.
How popular is Christian nationalism?
And it's not just in the American Redoubt that Christian nationalist ideas have been taking hold, but nationwide.
A poll of more than 6,000 Americans by the Public Religion Research Institute (PRRI) and the Brookings Institution asked if people agreed with various statements including "God has called Christians to exercise dominion over all areas of American society".
The survey found that more than half of Republicans were at least sympathetic to Christian nationalism.
Christian nationalism was also tightly tied with support for Donald Trump, the data suggests, with 71% of adherents holding a favourable view of the former president.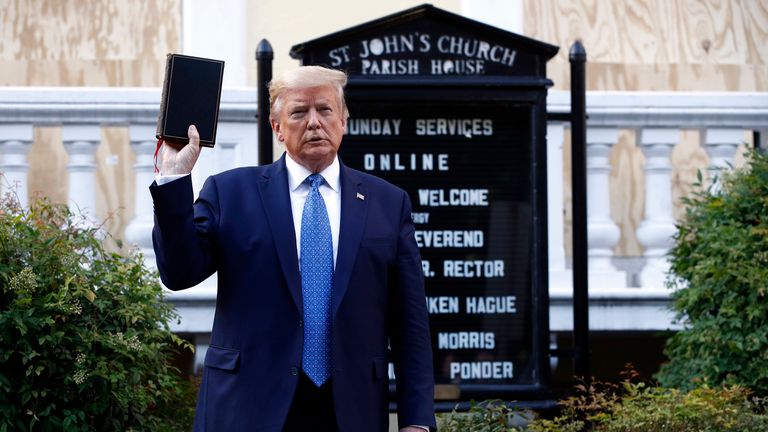 "White Christian nationalism is the greatest threat to democracy and the witness of the church in the United States today," says New York Times bestselling historian Jemar Tisby.
Speaking at a panel discussion of the survey's findings in February, he said the racial dimensions of Christian nationalism cannot be overlooked and that it typically sees a resurgence around times when black rights are expanding.
"Christian nationalism turns around a sense of loss," chimed in Kristin Kobes du Mez, a professor of history at Calvin University.
She said there are "clear anti-democratic impulses" in Christian nationalist beliefs, with some adherents holding the law of God above that of democracy.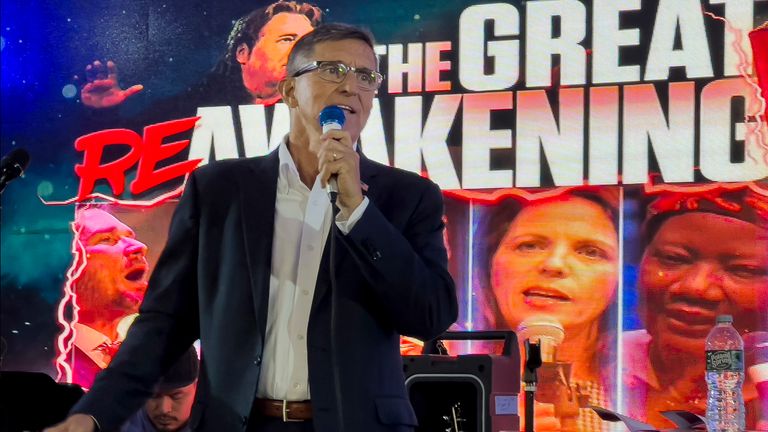 'Spiritual war' – Trump ally's ReAwaken America tour
Former three-star general Mike Flynn was appointed as Trump's national security advisor but resigned after just a few weeks. He pleaded guilty to lying to the FBI and was later pardoned by the former president.
More recently he has been known for his ReAwaken America tour and the Christian nationalist ideas he has been preaching far and wide.
"If we are going to have one nation under God, which we must, we have to have one religion. One nation under God, and one religion under God, right?" he said at a church in Texas.
He has said that a "spiritual war" is going on in America.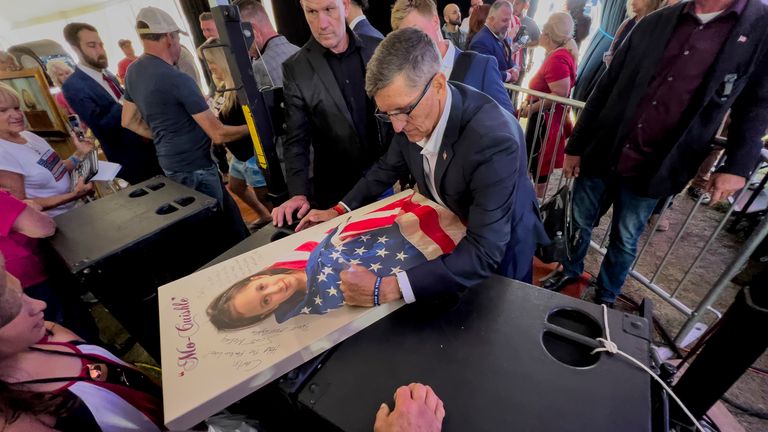 And it now seems Flynn could be bringing his firebrand Christian rhetoric to the White House, with Trump telling him on stage: "We're going to bring you back."
Sky News approached Mr Flynn for comment but did not receive a response.
Colin Beck, a professor at Pomona College and an expert in social movements, says that while it's correct to describe Christian nationalism as "nativism and racism together dressed up in symbols of Christianity and patriotism", it has also become something people identify with who would not consider it in that way.
He told Sky News that it has come to dominate the image of the Republican party, but he has diverged from some academics in his belief that its influence will "boomerang" and retreat from politics over the next decade.
On the ground in Idaho
In Idaho the impact of the coordinated efforts of Christians moving to the area and engaging with local politics is clear to see.
"Some of these individuals are very focussed on getting elected into office and have been for well over a decade now", says democracy activist Alicia Abbott.
"They're rising to different levels of power, everywhere from our library and school boards all the way up to our state legislatures."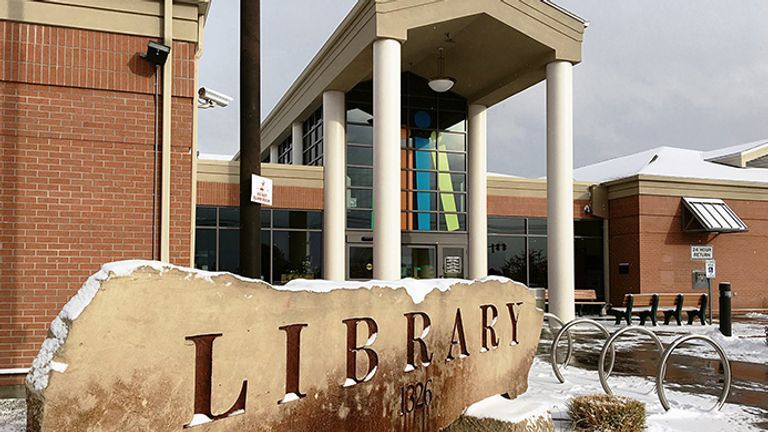 In Meridian, a local group campaigned to dissolve the city's library district entirely, claiming it allowed children to access sexually explicit material. The library district said this was not true.
But Abbott, who works for anti-extremism group The Idaho 97 Project, says the Concerned Citizens of Meridian group have been trying to get books banned "under the guise that they are grooming young adults" – something she says is "blatantly false".
"They're targeting LGBTQIA age-appropriate material and they are organising quite effectively around the narrative that librarians are checking out 'pornography' to kids."
Abbott said "manipulative efforts" are being used to recruit people into Christian nationalism, but emphasised that it doesn't reflect the general opinions of Idahoans.
All across America, abortion rights are under threat

Christian nationalism 'not some means to bring white order'
But not everyone believes Christian nationalism is a racist movement.
Stephen Wolfe is a scholar who recently published a book called The Case For Christian Nationalism, in which he outlines his vision for America – and says Christian nationalists are a "threat".
In an interview with Pastor Wilson, he said accusations that Christian nationalism is a dog whistle for white supremacy were "false".
He adds: "It's not some means to bring back some sort of white supremacy or white order, it's just identifying what is true on the ground."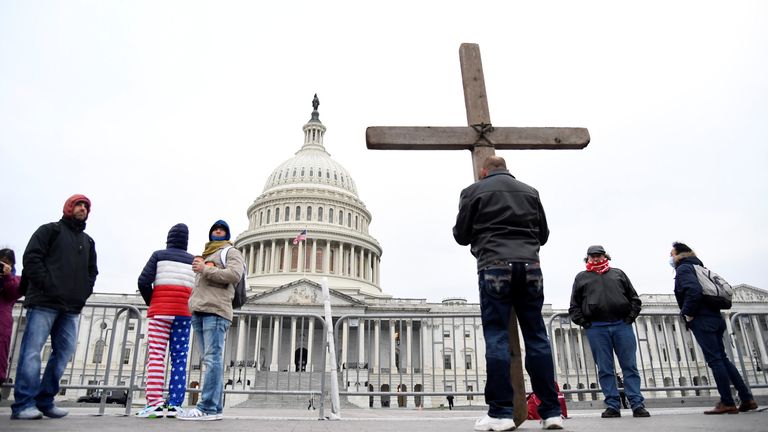 He talks about the idea of Christian nationalism being "a Christian nation that is kind of self-conscious of itself as a Christian people".
Wolfe says he doesn't want religious neutrality and calls for American institutions to reflect the "fact" that the US is a Christian nation.
"We should have Christian magistrates and Christian governments that enforce Christian norms on the public, in the public, and also ensure that public institutions such as schools are Christian as well."
Asked if secularism – the separation of church and state – is in trouble, he says: "I hope so".
"If Christians get serious then yeah, we're a threat…
"I'm not talking about overthrowing the government, I'm not talking about overthrowing the state. I'm talking about the regime as in the people who kind of control the forces of society…"
"I'm not calling for someone to go shoot up something," he clarifies.
When approached for comment by Sky News, Pastor Wilson acknowledged he is what some might call a Christian nationalist.
He said: "Accusations of 'racism' and 'white supremacy' are pretty easy to come by these days, and I am pleased to report to you that when it comes to the people I represent, the charge is utterly false, and ludicrous on top of that.
"Christian nationalism is not a threat to democracy, but it does pose a threat to godless secularism. If someone has simply equated 'democracy' with 'atheistic secularists always getting their way', then the charge might make some sense.
"But if one defines democracy as a reasonable mechanism for selecting our leaders via fair and free elections, then we are not opposed to democracy at all."
Stephen Wolfe did not respond to a request for comment.
Capitol riots: 'Intel was a disaster'

Christian nationalism 'a confused issue'
Dr Albert Mohler, who is president of The Southern Baptist Theological Seminary, which trains new pastors, says Christian nationalism is a "confused issue" that is sometimes used as a "term of abuse".
He told Sky News: "In a modern era in which secularisation is considered by the elites to be the norm, anyone who shows up speaking about Christianity in terms of national politics is going to be accused of being a Christian nationalist."
Dr Mohler, who says he believes in "traditional sexual morality" and believes there are only two genders, said he understands the "propaganda value" in suggesting Christian nationalism is a cover for white supremacy as a way to dismiss it.
Asked if he considers himself to be a Christian nationalist, he said: "I've never used the term, but I am a Christian and I believe in the importance of the nation and a Christian influence in the nation.
"So there are some people on the left who would claim that anyone who holds such a position is a Christian nationalist. I'm not going to run from that, but it is not a term that I use of myself."
Matias Perttula is director of the centre of American values at America First Policy Institute thinktank.
He echoes the idea that people "of other political leanings" tend to overexaggerate Christian or religious expression and "use it as a way to advance their own political agenda".
Perttula said it was important to have civil dialogue and not approach it from an attitude of creating division.
After January 6, is American democracy under threat from Christian nationalism?
"Christian nationalism is a very serious problem for the United States and specifically for American democracy," says Amanda Tyler.
Tyler is executive director of Baptist Joint Committee for Religious Liberty, a non-profit dedicated to upholding freedom of religion for all people.
She argues that Christian nationalism is both "un-American and un-Christian".
"It morphs God's love into an ideology that subjugates our neighbours, creates an 'us' versus 'them' narrative, and can even threaten their lives," she says.
A key "myth" associated with the movement, according to Ms Tyler, is that America was founded as a "Christian nation".
"And until we deal with some of those underlying myths and beliefs, we won't be able to dismantle Christian nationalism."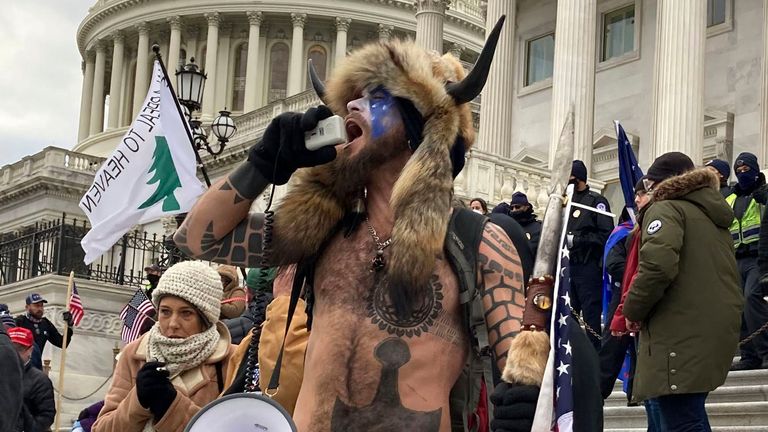 She says Christian nationalism "helped fuel" the Washington DC insurrection that sought to overturn the 2020 election, but that the ideology has been gaining steam since then.
Let's look back at one particular moment from 6 January that might get overlooked among the frenzy and the violence.
After the braying crowd breached the barricades and poured inside, a small number emerged on the floor of the Senate chamber and – in a strange scene – gathered in prayer.
"Thank you Heavenly Father for this opportunity to stand up for our God-given unalienable rights," Jacob Chansley, the so-called QAnon shaman, shouted through a megaphone.
"Thank you for allowing the United States of America to be reborn."