USA News
Harder to Adopt a Dog than to Take in Migrant Kids Under Biden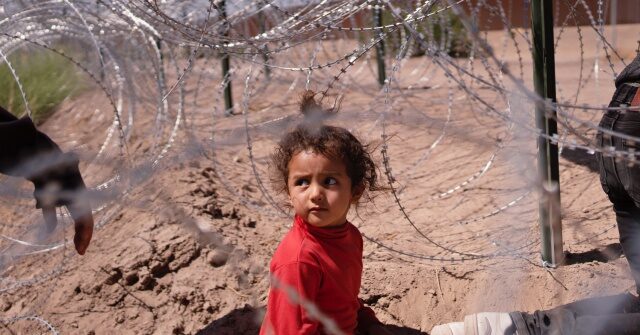 It is easier to adopt a dog or cat in Washington, DC, than it is to become a sponsor for Unaccompanied Alien Children (UACs) under President Joe Biden, Rep. Debbie Lesko (R-AZ) says.
During a House Energy and Commerce Committee hearing this week, Lesko called out Health and Human Services (HHS) Secretary Becerra for applying vetting standards for those adults in the United States seeking to sponsor UACs that are below the standards set by animal rescue shelters, as well as state foster care programs. Lesko said.:
Secretary Becerra, I have the requirements here needed to become a foster parent for dogs and cats through City Dogs & City Kitties Rescue in D.C. All the people who want to take a dog or cat into their home need to fill out an application, are interviewed by the rescue shelter, and their home is inspected.
"Mr. Becerra, does [the Office of Refugee Resettlement] inspect the homes of 100 percent of the prospective UAC sponsors?" Lesko asked, to which Becerra replied repeatedly that HHS does "a thorough vetting process of any sponsors" but could not say that sponsors' homes are inspected in 100 percent of cases.
"Do you, yes or no — 100 percent of the UAC sponsors sir, do you inspect the homes of the unaccompanied children proposed sponsors?" Lesko asked again.
"We will often do home studies," Becerra replied, to which Lesko said, "Well, I guess that's a no."
The rest of the exchange went as follows:
LESKO: If you don't, which I assume you don't because you didn't answer yes or no, why is it that dogs and cats that are being foster parented in D.C. homes are given more thorough vetting and their homes are inspected and not the sponsors of unaccompanied children being put into homes?

BECERRA: Congresswoman, we do a thorough vetting process–

LESKO: Do you inspect all of the homes?

BECERRA: We do a thorough vetting process of the individuals–

LESKO: You're not answering.
Becerra also could not state what percentage of UAC sponsors had undergone and passed a Federal Bureau of Investigation (FBI) criminal background check, a sex offender registry check, and a child abuse or neglect check.
RELATED: Congressional Testimony: Biden's HHS "Deliberately" Ignoring Trafficking of Migrant Kids Across U.S.
Homeland Security Committee Events
"You haven't said if they have to do an FBI background check, you haven't said if 100 percent of them have to do a sexual abuse or child abuse and neglect registry check, as is required in Arizona for foster parents," Lesko said. "So why is it that ORR has different standards for checking than Arizona does for vetting foster parents? Is it because they are unaccompanied children? They're illegal immigrants? What is the reason?"
Becerra, though, claimed HHS does not "have the same authorities" that state foster programs have in terms of vetting and tracking the children they release to adult sponsors.
"You do have the authority," Lesko said.
Similarly, Lesko noted that months ago, a Florida grand jury revealed startling cases where HHS had released many multiple UACs to a single adult sponsor.
"Mr. Becerra if you are vetting these sponsors so great, how come according to the Florida statewide grand jury documents, one single family in Austin, Texas had more than 100 children sent to it by ORR. Another Texas address had 34 children, a third had 25," Lesko said. "In Pennsylvania, one case worker told the Times he went to check on a child who had applied to sponsor 20 other minors. I don't think you are doing an adequate job."
Becerra was forced to go before the committee as reports have circulated for months that he and former Domestic Policy Advisor Susan Rice have ignored warnings that UACs are ending up in a widespread labor trafficking pipeline as well as sex trafficking and general abuse at the hands of their adult sponsors.
As Breitbart News has detailed, Biden has tripled the inflow of UACs to the U.S., coinciding with the explosion in child migrant labor trafficking. In Biden's first two years, close to 300,000 UACs arrived at the border and were released into the U.S. interior with adult sponsors.
In April, a whistleblower told Congress that the federal government is operating a "multi-billion-dollar child trafficking operation" under the guise of helping UACs.
"I thought I was going to help place children in loving homes. Instead, I discovered that children are being trafficked through a sophisticated network," the whistleblower said:
House Judiciary GOP/ YouTube
John Binder is a reporter for Breitbart News. Email him at jbinder@breitbart.com. Follow him on Twitter here.