USA News
Kim Jong-un shares center stage with Russian, Chinese delegates at military parade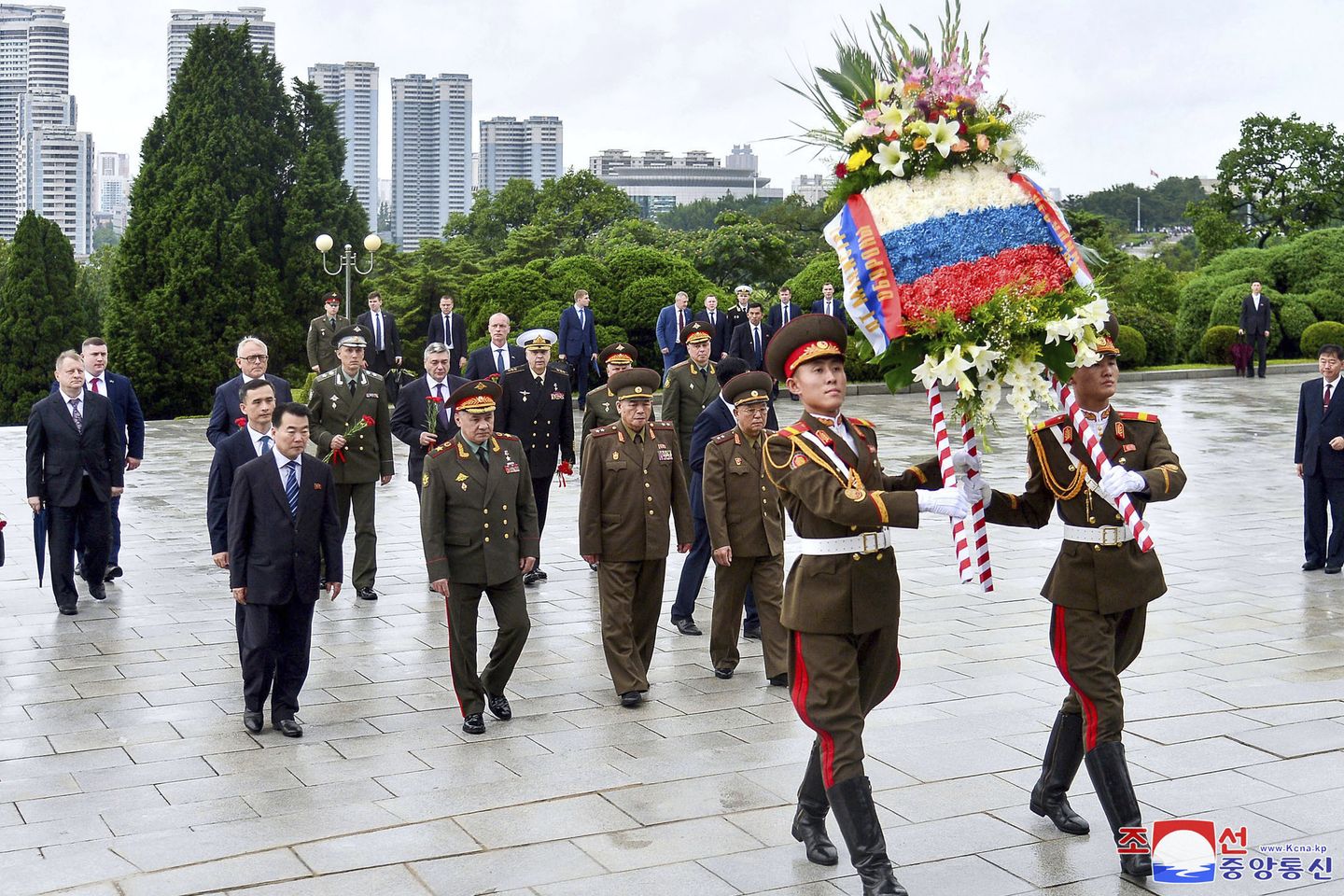 SEOUL, South Korea — North Korean leader Kim Jong-un shared center stage with senior delegates from Russia and China as he rolled out his most powerful, nuclear-capable missiles in a military parade in the capital, Pyongyang, marking a major war anniversary with a show of defiance against the United States.
State media said Friday Kim attended Thursday evening's parade with Russian Defense Minister Sergei Shoigu and Chinese ruling party official Li Hongzhong from a balcony looking over the city's main square.
The streets and stands were packed with tens of thousands of mobilized spectators, who roared in approval as waves of goose-stepping soldiers, tanks and huge, intercontinental ballistic missiles wheeled out on launcher trucks filled up the main road.
---
---
Kim's latest display of his military might comes as tensions on the Korean Peninsula are at their highest in years. North Korea has dialed up its weapons tests to a record pace in recent months and the U.S. has responded by strengthening combined military exercises and nuclear contingency planning with South Korea, in a cycle of tit-for-tat that has been punctuated by mutual, verbal threats of destruction.
North Korea's invitation of Russian and Chinese delegates to the parade was a rare opening for the country since the start of the pandemic. Experts say Kim is trying to break out from diplomatic isolation and boost the visibility of his partnership with authoritarian allies to counter pressure from the United States, which has been strengthening its security cooperation with South Korea and Japan to contain the North's nuclear threat.
The parade followed meetings between Kim and Shoigu in Pyongyang this week that demonstrated North Korea's support for Russia's invasion of Ukraine and added to suspicions that the North was willing to provide arms supplies to Russia, whose war efforts have been compromised by defense procurement and inventory problems.
North Korean state media said Kim and Shoigu during a meeting Wednesday reached a consensus on unspecified military matters related to the "regional and international security environment." Kim also took Shoigu to an arms exhibition that displayed his most powerful weaponry, including new ICBMs that were flight-tested in recent months and demonstrated potential range to reach deep into the U.S. mainland.
The parade capped off the North Korean festivities for the 70th anniversary of the armistice that stopped fighting in the 1950-53 Korean War. North Korea, which triggered the war with a surprise attack on the South in June 1950, was supported by Chinese troops and the then-Soviet air force. South Korea, the United States, and troops from various nations under the direction of the United Nations fought to push back the invasion.
The truce signed in July 1953 was never replaced with a peace treaty, leaving the Korean Peninsula in a technical state of war, but the North still sees it as a victory in the "Grand Fatherland Liberation War."
The anniversary events were more somber in South Korea, where President Yoon Suk Yeol visited a war cemetery in the city of Busan to honor the foreign troops who died while fighting for the South during the war.
In the face of growing North Korean threats, Yoon has pushed to expand South Korea's military exercises with Washington and is seeking stronger U.S. reassurances that it would use its nuclear capabilities to defend the South in the event of a nuclear attack.
Copyright © 2023 The Washington Times, LLC.