USA News
Special Counsel Interviews 2020 Election Security Official Fired By Trump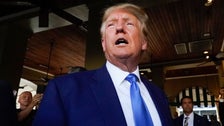 Special counsel Jack Smith has interviewed a government cybersecurity official in charge of voting system security who was fired by Donald Trump after casting doubt on the former president's 2020 election lies.
Chris Krebs on Tuesday told CNN he spoke with Smith's team in early May, but didn't elaborate.
The questioning of Krebs in the Justice Department's wide-ranging probe into Trump's efforts to undo his 2020 election defeat adds to the anticipation of a potential third Trump indictment. Trump last week said he received a target letter from Smith suggesting he'll be charged.
Krebs was terminated by Trump in November 2020, days after the agency he headed issued a statement calling the election "the most secure in American history." Krebs also operated a website debunking election conspiracy theories called Rumor Control.
"The recent statement by Chris Krebs on the security of the 2020 Election was highly inaccurate, in that there were massive improprieties and fraud — including dead people voting, Poll Watchers not allowed into polling locations, 'glitches' in the voting machines which changed votes from Trump to Biden, late voting, and many more," Trump ranted on Twitter at the time.
He continued: "Therefore, effective immediately, Chris Krebs has been terminated as Director of the Cybersecurity and Infrastructure Security Agency."
Smith also has been looking at a Feb. 14, 2020, White House meeting where Trump was briefed by various agency officials about the security of the U.S. election system and the difficulty of interfering with the results, sources told NBC News and CNN.
Trump appeared content with the briefing, and considered having the FBI and the Department of Homeland Security hold a news conference to tout his administration's work to secure voting, CNN reported.
Smith has been trying to establish Trump's mindset about the security of the U.S. electoral system prior to trying to undermine it, a source told the network.
The target letter Trump received reportedly cites three federal statutes that could constitute the basis for an indictment: conspiracy to defraud the United States, deprivation of rights under color of law, and tampering with victims, witnesses or informants.
The former president has already been indicted in New York over his role in a hush money scheme involving adult film actor Stormy Daniels, and for mishandling classified documents in another probe overseen by Smith.
But his 2024 GOP rivals are mostly giving him a pass over his role in the insurrection and efforts to undermine the 2020 vote.
Florida Gov. Ron DeSantis said he hopes Trump won't be charged for the good of the country, while former Vice President Mike Pence, who has blamed Trump for putting his family in danger on Jan. 6, claimed he wasn't sure Trump's actions were criminal.
Despite his mounting legal woes, Trump remains the GOP front-runner and has continued campaigning and raising money. He made a stop in New Orleans Tuesday, where he was asked by reporters if he was concerned about his own allies talking to the special counsel's investigators.
"No, no, we're innocent," Trump said. "We're totally innocent. We have a bunch of crooked people running this country."
Trump is set to attend the Republican Party of Iowa's 2023 Lincoln Dinner on Friday and hold a rally in Pennsylvania on Saturday.